Here in Johnstown, Ohio the kids have been hoping for snow days lately but I'm not sure the parents agree! It can be a struggle to find last minute childcare or call off of work due. For me a snow day means, still packing the kids up and hauling them to the babysitters which might just take a little longer due to the weather conditions. I'd love to stay home and play outside with them but as anyone with small kids knows, it takes longer to get them dressed for the fun than they will actually stay outside and play. For my kids though a snow day means, they will get to play with their friends and hang out all day instead of having to sit through class dreaming of making snow forts and snow angels. They will be happy to play their video games, eat yummy snacks, drink hot chocolate, and keep warm! If we get really snowed in though, we will stay home and I can work remotely in between play and snack time!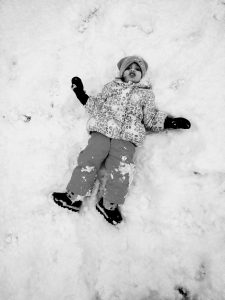 The time between Christmas break and Spring Break seems very long in these bitter cold months but this is the time for the students to buckle down and power through to make it a great year academically. January marks the mid-way point in the school year too (at least in our district the 2nd grading period has just completed) so it is a good time for students to look at how they are doing and what they need to work on to achieve great results for the year. As a kid I always looked forward to getting my grade card so I could get a pat on the back from my parents and grandparents but even more importantly, if you took your grade card to Cheryl's Cookies, you would get a cookie for each "A". I found this link for some current companies that give rewards for good grades (I can't vouch for these myself but check them out if you want some extra incentives for the kids): Good Grade Rewards!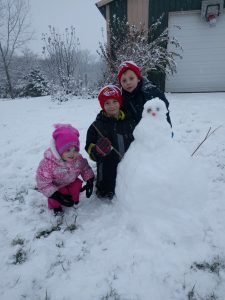 As I got older though, I found out another important impact of my grade card. My parents alerted me to the fact that if I didn't have good enough grades, I would not be allowed to drive. Many of my friends were under the same restriction and come to find out it wasn't just because they wanted us to do well and focus on our schoolwork to get into a good college. It was because we would earn a nice discount on our car insurance! The rates can range drastically on your car insurance based on the different discounts you qualify for but anytime you add a new driver to your policy, you will see a significant change. This impact can be reduced by earning the good student discount. Most companies base this off of a Grade Point Average (GPA). Young drivers can earn this discount from the time they start driving until they complete their education, which can be if they continue on as a full time student in a university or trade school. Typically they will need to just provide proof of their GPA or Dean's List achievement once each year. 
If your student decides to get out of this cold weather and head south (well anywhere farther than 100 miles from home really), they could earn a discount for this too. Most companies give an "Away at School" discount if they are living away from home for school and will not be keeping one of the family vehicles with them. In this case, they are still covered to drive but the insurance company knows they won't have daily access so they get a reduced rate. Generally these students are only driving on extended breaks and weekend trips back home. More often than not though, you can't get both the good student and the away at school discount but your agent should be able to help figure out which would be best to apply for in your individual situation.
So as the snow and cold weather continues, keep encouraging the kids to focus now because once all of the Spring activities kick up it is much harder to get back on track at the end of the school year. When they are lucky enough to get a snow day, they can do all of the "snow-dreaming" and building snowmen they want to but when they get back to school – back to focus on keeping those grades up!
For your young drivers, make sure you get those grade cards into your insurance agent so they can make sure you are getting all of the best discounts. Don't over pay for your teenage driver unnecessarily!
For other tips on how to keep your rates low whether you have a young driver in the household, feel free to call or email us anytime!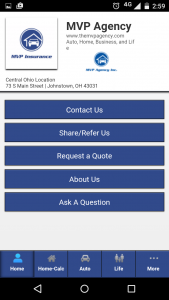 Easy to contact us through our app! Download now: http://themvpagency.insurancetapp.com